A Great Offer from BBQs 2u – Ooni Pizza Oven!
To get a perfect and authentic, wood-fired pizza BBQs 2u is now presenting different models of Ooni Pizza Oven, which is the first oven in the world for portable pellet pizza. To prepare the ultimate home pizza, an Ooni pizza oven can be the perfect addition to every outdoor kitchen.   
Ooni's Pizza ovens can cook pizzas very fast and offers a fantastic value as compared to any other wood-fired pizza oven available on the market. Some of its models are compact enough so that they can be easily carried on the beach and have a pizza party.
As seen on BBC, the Ooni Koda pizza oven was voted in 2020 the "Best Buy" by the Independent.  The innovative pizza ovens of Ooni can make incredible pizza at home very fast, which is easy and affordable. Ooni Pro can reach double the temperature that of domestic ovens in just 20 minutes or less at a fraction of the cost of any traditional, permanent wood-fired oven.
The Ooni Koda 12 offered by BBQs 2u is a gas-powered pizza oven that can cook pizza in 15 minutes and can easily attain temperatures up to 950°F / 500°C. There is a heat control dial available to set the temperature to cook pizza at top temperatures within 60 seconds. Also, it can be turned to lower temperatures, which will be ideal for roasting meat, fish, and vegetables.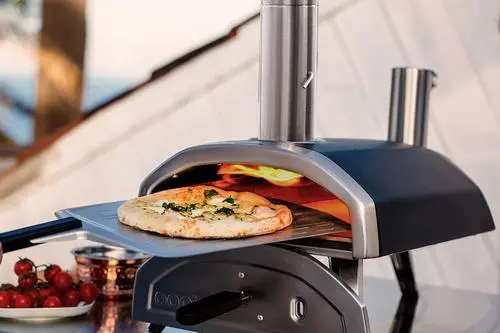 There will be no mess, no assembly, and no fuss! The following are the various salient features of this model of Ooni Koda oven:
Fuelled by gas by using Piezo ignition

Stone baking board

Heat-control dial Steel shell

Foldable legs

Letterbox pizza door

Available with a propane tank hose and gas regulator 

Manual, tips, along with a recipes guide 
Another model of gas-powered pizza oven offered by BBQs 2u is Ooni Koda 16 that will offer ultimate ease and control.  This oven can also reach 500°C (932°F) just within 20 minutes, can cook stone-baked fresh pizza just within 60 seconds. Also, an extra-large cooking area is provided for meat joints, 16" pizzas, bread, etc. 
This model has got a show-stopping design and offers the convenience of cooking also with gas. One can easily switch on its instant gas ignition, and the pizza will be cooked within 20 minutes. Like all other models of Ooni pizza ovens, this one too can reach up to 500°C (932°F). This much blazing heat will be sufficient to cook stone-baked, and delicious pizza just in 60 seconds.
The following are the key features of this model
Ready the moment taken out of the box, just need the connection to a propane tank to start cooking!

Turn the heat instantly and easily up and down by using the heat control dial.

No smoke and there will be no need of cleaning up ashes after cooking! 
What is available in the Box 
Gas-powered pizza oven

Manual and also Ooni essentials guide providing tips and recipes 

Propane tank gas regulator with hose
More reviews about both these models can also be found on Pinterest to know more about their various other applications.